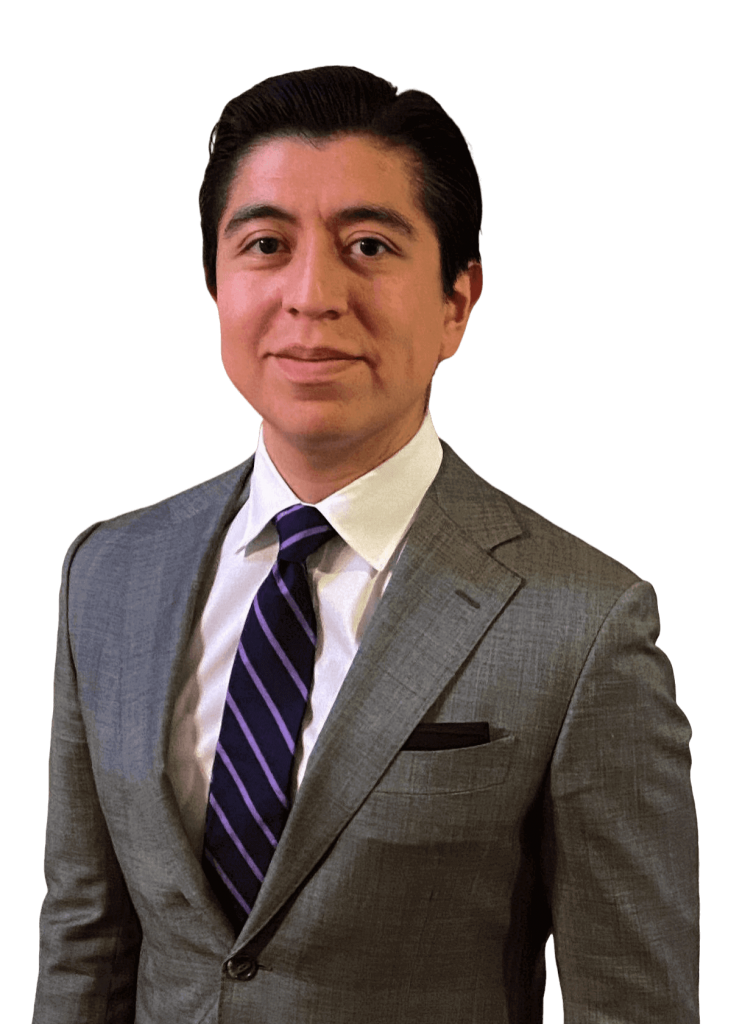 Jimmy Aliaga is a senior associate at Calcaterra Law PC. Jimmy has experience litigating complex federal and state matters including securities fraud class actions, consumer protection litigation, and individual actions under New York's recently enacted Child Victims Act. His current matters also include litigating several product liability lawsuits against a large manufacturer of infant and children's' products and litigating Title IX claims on behalf of a college athlete at the district and appellate level.
Prior to joining the Firm, he was an associate at a plaintiff-side class action firm and served as an Assistant District Attorney in the Brooklyn District Attorney's Office. During his tenure, Jimmy conducted numerous bench and jury trials to verdict as lead counsel and coordinated grand jury investigations on a multitude of criminal actions including NYPD misconduct as a member of the Law Enforcement Accountability Bureau.
He was a member of the ABA's Business Law Section 2020-2022 Fellows Program and was selected to City & State New York's 2022 and 2023 Law Power 100 lists. He served as the Hispanic National Bar Association Regional President in New York for the 2020-2022 term, received HNBA's Regional President of the Year Award in 2021, and currently serves on the HNBA Executive Committee as National Vice President of Regions & Affiliates.
Jimmy is currently admitted to practice in the State of New York, the U.S. District Courts for the Southern, Eastern and Northern Districts of New York, and the U.S. Court of Appeals, Second Circuit.
Represents a student athlete in a lawsuit against Syracuse University, alleging the University failed to appropriately respond to allegations of domestic violence in violation of Title IX and state law.

Represents survivors of childhood sexual assault pursuing justice via New York's Child Victims Act.
Represents families who lost their infants in the Rock 'n Play Sleeper against Mattel, Inc. and Fisher-Price, Inc.
Represented institutional investors in a federal antitrust class action seeking recovery from over nine banks who allegedly participated in bid-rigging and market manipulation of the Mexican Government Bond market.
Represented institutional investors seeking class-wide relief through federal securities class actions.
Represented a plaintiff class of workers alleging federal and state labor law violations against a publicly traded utility company.
New York University School of Law (J.D., 2015)
James Madison University (B.A., magna cum laude, 2012)
Professional Affiliations
Hispanic National Bar Association, National Vice President, Regions and Affiliates, 2022-2023 Term
Hispanic National Bar Association, Region II  (New York)  President, 2020-2022 Term 
American Bar Association, Business Law Section, Fellow, 2020-2022 Term
American Bar Association, Business Law Section, Young Lawyer Committee's Diversity & Inclusion Chair
New York City Bar Diversity Fellow 2013
While attending New York University School of Law, Jimmy served as an intern with Morgan Stanley, PricewaterhouseCoopers LLP, the U.S. Commodity Futures Trading Commission, and the Office of the U.S. Attorney for the Eastern District of New York. He also served as a Senior Articles Editor for the Journal of Law & Liberty and an executive board member for the Suspension Representation Project and the Know Your Rights Project and participated in the NYU Legal Ethics Bureau's examination of prosecutorial misconduct. Jimmy currently devotes his time to serve as the alumni advisor to his alma mater's undergraduate chapter of La Unidad Latina and is a mentor in the LatinoJusticePRLDEF's Next Generation Lideres program.  
Doing Well by Doing Good  – So You Want to Be a Plaintiffs Attorney? – September 9, 2022 – HNBA / VIA Annual Convention – Moderator
Recent Legislation and Judicial Decisions Affecting the LGBT Community – March 23, 2022 – HNBA Corporate Counsel Conference – Moderator
Proliferation of Mass Arbitrations: The Unintended Consequences of the U.S. Supreme Court's Liberal Policy of Favoring Arbitration in Contracts and Enforcement of Class Action Waivers – September 28, 2021 – HNBA/VIA Annual Convention – Panelist
The Many Facets of Criminal Practice – NYU Law Alumni of Color Association – Panelist
Government & Prosecution Forum – An Introduction to Public Interest Lawyering – NYU Public Interest Law Center – Panelist
Preparing for Prosecution Interviews – NYU Law Public Interest Law Center – Panelist